We Can Detect Your Compromised Credentials Used to Exploit Employees and Customers, And Help Keep Your Critical Business Assets Safe From The Compromises That Lead To Breach And Theft.
Far too often, companies that have had their credentials compromised and sold on the Dark Web don't know it until they have been informed by law enforcement — but by then, it's too late. Dark Web is a parallel world of underground marketplaces, where cybercriminals trade stolen personal and business information, among other illegal activities. If your employee or customer credentials are found on there, it can put your company in a world of trouble.
How Can Simplicit Technologies Help Your Business?
Our Dark Web monitoring solution includes:
Detecting compromised credentials in real-time
Monitoring 24/7 365
Notifying you immediately when these critical assets are compromised, before they can be used for identity theft, data breaches, or other crime
Protecting the employees and customers you serve
We Go into the Dark Web to Keep You Out
We scour millions of online sources.
Hidden chat rooms
Black market sites
Private websites
Social media platforms
Peer-to-peer networks
IRC (internet relay chat) channels
640,000+ botnets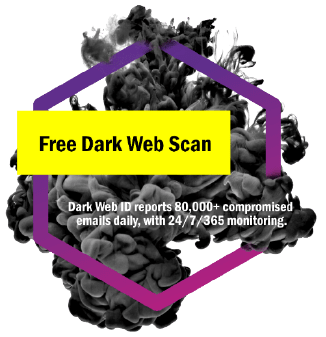 Cybersecurity doesn't have to be too overwhelming, expensive or complicated. The first step to protecting your business is understanding your risk.