Hosted Exchange Services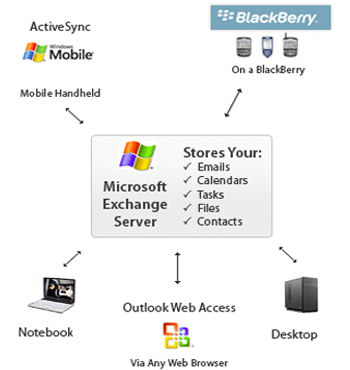 Microsoft Exchange Server is the leading business-grade messaging system employed in North America and is currently used by 160 million people worldwide.
Exchange offers a number of capabilities, including:
Email
Calendaring
Task Management
Address Lists
Access to Shared Document Repositories
and other functions...
Benefits of Hosted Exchange Reduced Costs

---
Cost savings from moving to a hosted exchange server is substantial. The cost savings come from many areas. First, there is no need to purchase any hardware, since no physical server on-premise is needed. With every server comes the operating costs of that server. Another way that a hosted exchange can reduce costs right away, is licensing. Hosted exchange solutions include licensing in the monthly price.
Robust Business Continuity
---
The business impact of a service outage or the loss of years' worth of critical data is incalculable. It is not surprising that service level agreements have become a critical aspect of the Exchange provider selection process. Unforseen disasters can cause your office to be offline for hours, days, or even weeks. With an off-premises server handling your email, communication will still be available via mobile and users' machines at home. This now allows for businesses to keep communication services running, no matter the status of the office. At SImplicit Technologies, the premium infrastructure behind our solutions is built on many years of Exchange experience. This enables us to offer a 99.999 percent uptime SLA.
Rapid Deployment and Scaling
---
Deploying hosted Exchange typically requires little more than the modification of a MX record and possibly a change in the configuration of local email clients (i.e Outlook). Adding new users to an existing hosted Exchange deployment requires just a few clicks in a Web-based administration tool. This makes it easy to add or eliminate small groups of users, or even entire department, which is very helpful when integrating merged or acquired companies into the existing Exchange infrastructure.
End User Benefits
---
There are benefits for end users too, however with a smooth transition an end user will not notice when migrating from a self-hosted exchange, to a hosted exchange solution. There are many benfits for the end users when migrating from other communication tools.
How Can Simplicit Help?
---
Simplicit Technologies helps setup your onsite or hosted exchange server solutions. To ensure we consistently meet or exceed the service expectations of our users, we never stop investing in infrastructure improvements. SImplicit Technologies' super-premium infrastructure ensures our commitment to reliability is rock-solid.
Please contact us if you have further questions. You can reach us via email or by calling 800-245-5210.