Application virtualization
---
Virtualization can simplify your application deployment and management by eliminating application conflicts and delivering application compatibility at the lowest cost. Using VMware's ThinApp application, virtualization is made simple by packaging an entire application and its settings into a single executable that is isolated from the operating system.
The benefits of application virtualization are: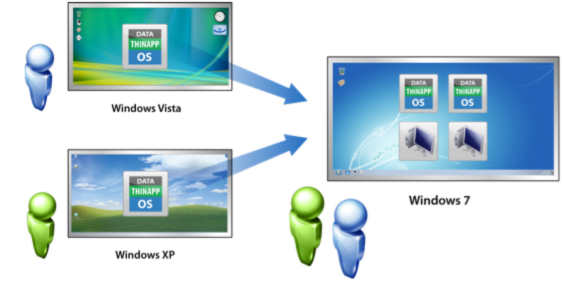 Accelerate Operating System Migration
Migrating to a new operating system is a disruptive and costly event. Minimize recoding and regression testing and quickly migrate your applications with ease.
Simplify Application Management
VMware ThinApp agentless architecture does not require any client code to be installed on endpoints, eliminating any additional management burden on IT.
Streamline Application Updates & Upgrades
Application updates and upgrades can be done in place and in one place.
End users can continue to perform their tasks without any interruptions.
Reduce Application 'Silos'
Virtualized applications are completely isolated from the operating system and other applications.
This allows multiple versions of an application to run on the same server.
Agentless architecture
Zero client footprint on client endpoints allows for faster deployment and ease of management. No agent code to update or patch. There is no disk space or memory required on the client to run and deploy ThinApp packages.
Now you can migrate your applications to Microsoft Windows 7 much easier with application virtualization. Package your application on a legacy operating system such as Microsoft Windows Vista or XP and run it seamlessly without any code change in the application directly on a Microsoft Windows 7 operating system.
How can Simplicit help?
---
Simplicit provides you with an application virtualization solution to fit your business needs. Simplicit helps you plan and implement the best solution. Contact Us today to receive more information.
Go Green, Virtualize
---
Virtualization provides tremendous energy benefits and a lifeline to datacenters that are running low on capacity and high on power and cooling costs. Virtualization
Datacenter Virtualization
---
There are numerous reasons why your company would want to virtualize the datacenter. You may have already started the journey to the cloud and virtualized some of your servers and applications.
Datacenter Virtualization
Desktop Virtualization
---
Virtualizing your PCs streamlines desktop and application management, reduces costs, and increases data security through centralization, resulting in greater end user flexibility and IT control.
Desktop Virtualization